Rozlyn Kwong, a member of our research and training program, Hathaway Center for Excellence, was a panelist on one of the Grief Sensitivity Virtual Learning Institute's webinars earlier this year.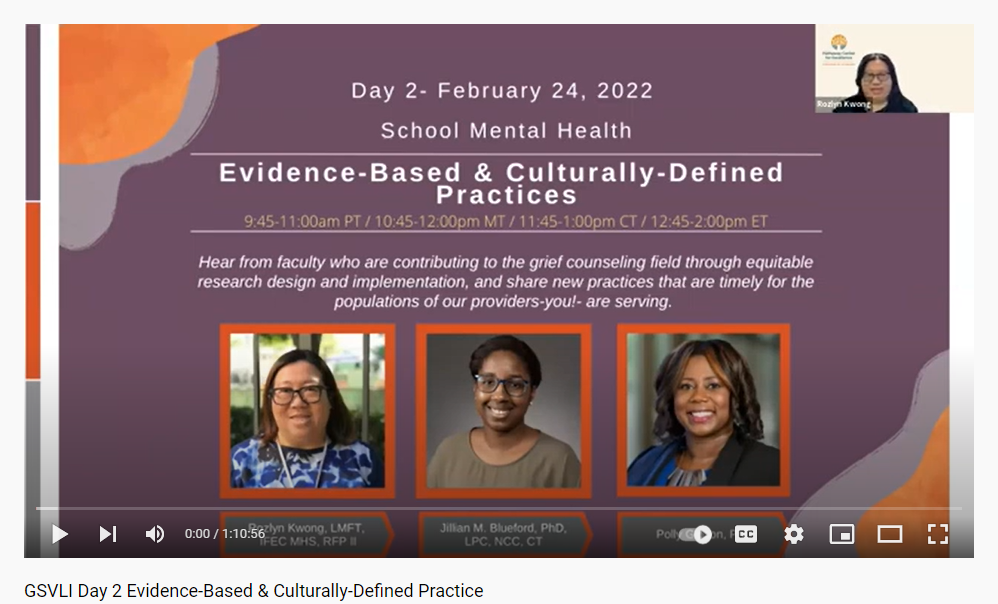 It was part of a two-day institute hosted by the Mental Health Technology Transfer Center (MHTTC) Network featuring experts from across the country.
We are pleased to share the recorded video from the webinar. (Rozlyn's first part in the video begins at about the 23-minute mark.)
Read More
The webinar was geared for Community Mental Health Practitioners, Social Workers, Psychologists, Therapists, School Mental Health Personnel, School Counselors, Educators, School Administrators, and anyone interested in enhancing their grief sensitivity.
The faculty; Rozlyn Kwong, LMFT, IFEC MHS, RFP II; Jillian M. Blueford, PhD, LPC, NCC, CT; and Polly Gipson, PhD; provided clinical training on grief related evidence-based or culturally defined practices.