The sudden passing of longtime Sycamores staff member Claudia Williams in February was a shock to staff and youth alike at our El Nido residential campus. Affectionately known as Miss Claudia, she worked with the youth in our residential care since 2006. She was dedicated to the campus youth and her team. Always straightforward, she often gave voice both to what was working well on campus and what needed improvement. In addition to her personal integrity, her years of experience working on the campus made her an asset to new staff members and she used her personal stories to teach Sycamores staff and campus youth.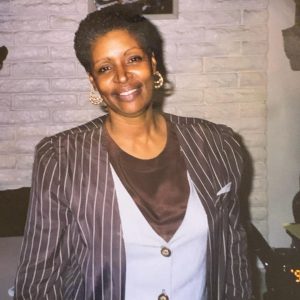 In her role as a Youth Specialist, Miss Claudia was responsible for the care and supervision of the youth on campus, and she helped to instill life and social skills. Although it wasn't part of her job description, she loved to bake, and was celebrated for her fried chicken. Everyone knew from the aroma when she was cooking chicken on campus that they were in for a treat!
She was planning on retiring later this year. Her friend and supervisor, Tasian "Taz" Taylor recalls Miss Claudia contemplating her future, "She couldn't think of anything other than being with Sycamores youth or serving underserved youth that she would rather do." To her dying day Miss Claudia was doing the work she loved.
The staff and youth at El Nido recently had a celebration of life ceremony on campus, commemorating her life and her many years of service with a brass plaque on one of the rocks in the garden. We are grateful to have known and worked with Miss Claudia and for her 17 years of service at Sycamores. She is deeply missed by the El Nido community. Miss Claudia is survived by three adult children – a son and two daughters – and two grandchildren.