Foster youth have been cooking up something special in the Life Skills and Cooking Class at our El Nido campus.
Guided by Sycamores Community Wellness Specialist Rosie Martinez, an experienced cook, the youth learn how to work together and prepare dishes step-by-step. Rosie encourages the students to sample the meal in progress to determine if the seasoning is to their taste. Safety in the kitchen is always a priority and the youth learn to clean up after themselves, washing dishes as they go.
After the first day of school, homemade macaroni and cheese with bacon was on the menu. On this evening James and Lucas* were participating in the class. The atmosphere in the kitchen was homey, as James measured the pasta and Lucas cooked the bacon.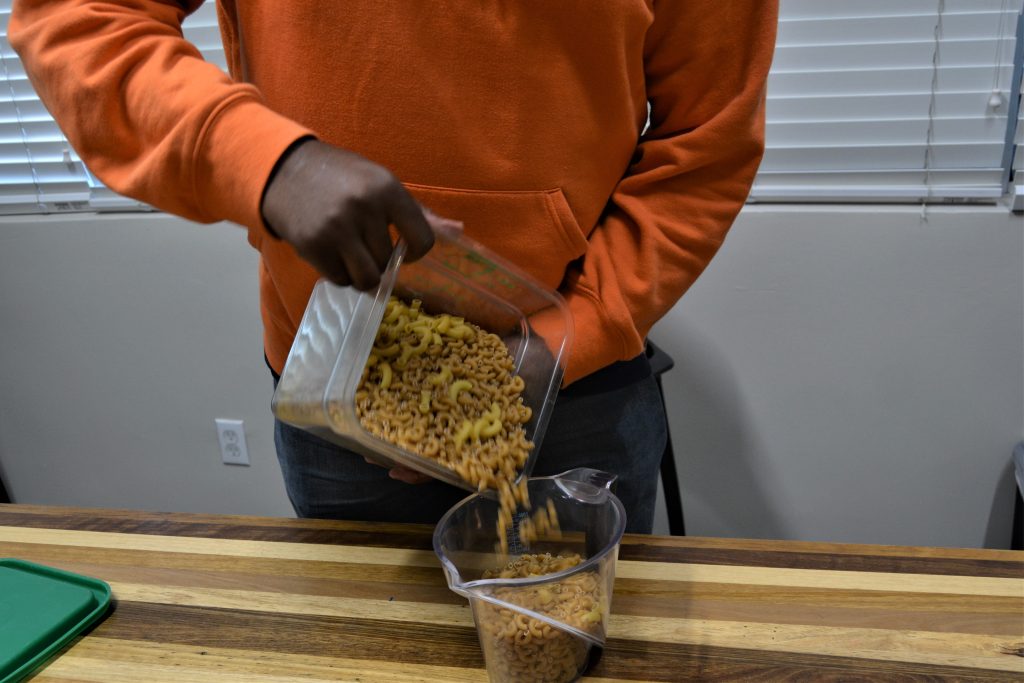 In between discussing the next steps, Rosie asked questions about their first day of school. What classes are they taking? Did they like their teachers? While they focused on the shared goal of making dinner, the conversation flowed freely. Rosie used the opportunity to learn more about what the youth are thinking and experiencing, the challenges they are facing, and to determine how she can best support them.
James is concerned about Spanish class, and Rosie, who is fluent in Spanish, offers to help him study. He acknowledges that it never occurred to him to ask Rosie for help with Spanish. Lucas admits he skipped breakfast before school that morning and Rosie says that she will prepare healthy fruit smoothies for him (a favorite of his) before school to start him off on the right foot. Rosie is happy to make the extra effort for both boys because she knows the importance of good nutrition and she also wants them to know someone cares.
According to Rosie she has shared many meaningful and healing conversations with the boys in the kitchen. "I have the privilege of seeing the best side of them, when they are relaxed, enjoying the textures and aromas, discovering new flavors, and familiar flavors that remind them of home. I get to see how proud they feel when they complete a dish and they hear how proud I am of their hard work and the excellent job they have done when they clean the kitchen. I see such a sense of accomplishment on their smiling faces. Our boys experience so much positive feedback in the kitchen that growth and increased confidence is inevitable. I love the class, but most of all I love the positive effect I see on the boys' souls."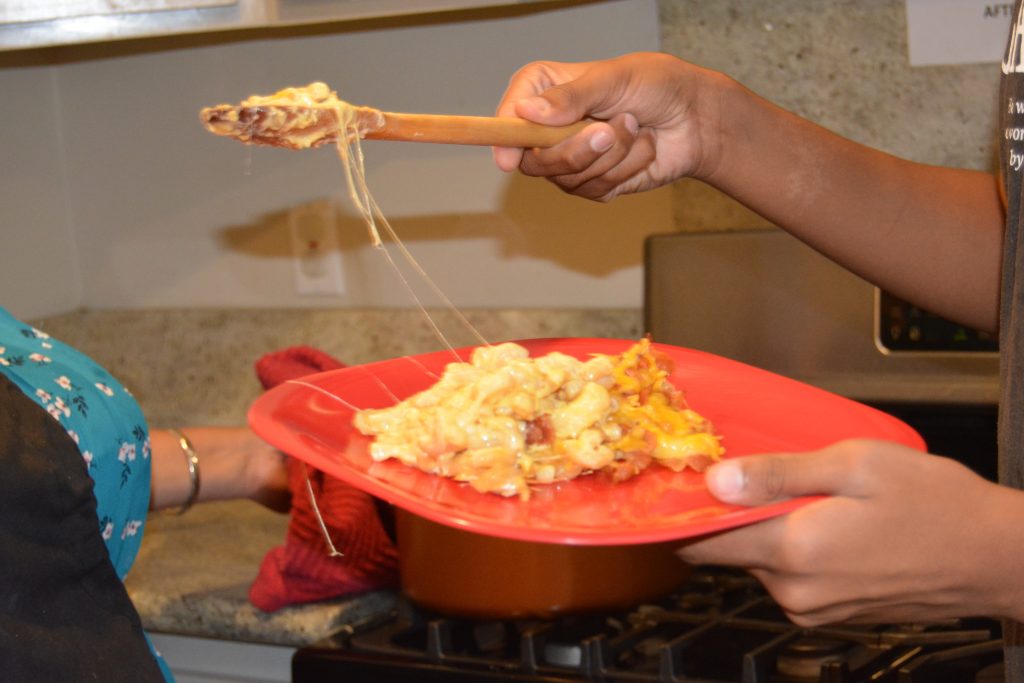 After the mac and cheese had baked for just the right amount of time – Rosie points out how it should look when it is ready, cheese melted and bubbly – James and Lucas sit down at the table with Rosie to enjoy the well-deserved meal and the conversation continued.
*The names in this story have been changed to protect the privacy of the foster youth.