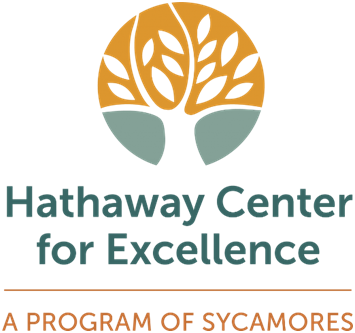 This summer, as part of Sycamores' agency-wide rebranding, the organization's esteemed research and training program was officially named the Hathaway Center for Excellence (HCFE). The HCFE is important, as it enables our organization to collect and share evidence-based research discoveries to clinical professionals in the United States and beyond, ensuring findings not only impact the care our agency provides, but also helps to inspire informed care to all consumers in the therapeutic field.
We are proud to announce that the Hathaway Center for Excellence was recently awarded a grant through the Department of Health and Human Services Substance Abuse Mental Health Services Administration (SAMHSA) to support its important work. The 1.9-million-dollar funding stream from the SAMHSA grant will provide a foundation to allow the Hathaway Center for Excellence to expand trainings that are already planned and to reach more individuals over the next five years.
The foster youth at our residential campus, as well as youth in our community-based intensive programs, are disproportionately exposed to trauma and/or grief and loss. With the SAMHSA funding the Hathaway Center for Excellence will develop the tools to better identify and treat traumatized youth in our care, while also providing training for staff in our residential and community-based intensive programs. We are honored to be partnering in this project with nationally recognized subject matter experts through the National Center for Traumatic Stress Network and the National Center for Child Traumatic Stress.
Most organizations do not invest in research and training to the extent that Sycamores does. We believe that the Hathaway Center for Excellence's work is essential to accomplishing our agency's mission and to the profession as a whole. By evaluating the effectiveness of our programs, research, and clinical training, the HCFE gives our staff members the best tools necessary to help our consumers, and it enables us to expand our footprint and reach beyond Los Angeles County, helping individuals and organizations across the United States, and even globally, increase their clinical knowledge.